Posted 22-10-2019

How to Convert PDF to Excel?
PDF documents are the most common format used for exchanging data between business entities. However, extracting and accessing the data stored in a PDF is not an easy job. Originally, PDF's were invented as a replacement for written documents. They ensure the same view on every device but lack structuring tags that make data bifurcation a difficult task.
Thus, we can say that PDF is a visual representation of the data stored in a document. This data cannot be exported directly in a structured form and saved in another format like Excel, CSV, XML, etc. The article is dedicated to the conversion of PDF to Excel spreadsheets and how DocAcquire makes it possible with ease.
Keep reading to know more.
Converting PDF to Excel
Converting PDF to Excel is a common practice as every user is looking for specific data in a document. The conversion may not be as straightforward when we are talking about volumes regularly, and thus an intelligent Data Extraction Software can automate this tedious process. DocAcquire solves it by extracting data from PDF documents in huge volumes and converting it in an Excel format. DocAcquire is a modern cloud-based data capture software that can extract data from a variety of file formats like PDF, png, jpeg, and tiff. It allows you to fully automate the processing of your business documents and saves you from manual keying of data.
How is PDF to excel batch conversion useful?
PDF to Excel converter
DocAcquire helps convert a high volume of PDF documents such as Invoices, Purchase Orders, Expense Reports, etc to structured data format. The process begins by extracting necessary data from the PDF files using Intelligent OCR technology. The integration options and accuracy offered by the system makes the data capture swift. 
DocAcquire has a variety of built-in tools to make it seamless to extract key information from Invoices and other document types, such as Supplier Name, Invoice Date, Invoice Number, Phone Number, etc. If data is fixed into specific locations, zonal data extraction can be faster and help in an easy collection of data that is required while converting the PDF document to an Excel file. 
DocAcquire can dynamically extract data points (fields) that don't have a fixed location. After setting the various extraction rules, you can simply upload a batch of PDF documents and automate the workflow.
How to convert PDF to excel with DocAcquire?
Purchase orders, expense reports, invoices are usually available in multiple physical layouts. You can configure DocAcquire for various document layouts and you are good to go! You will be able to batch convert PDF to Excel. Here are a few steps that you need to follow for converting a batch of Invoices to an Excel spreadsheet. A screenshot has been attached to every step to guide you through the process.
1. Upload all the invoice layouts in DocAcquire and define the fields to be extracted and the extraction rules for them.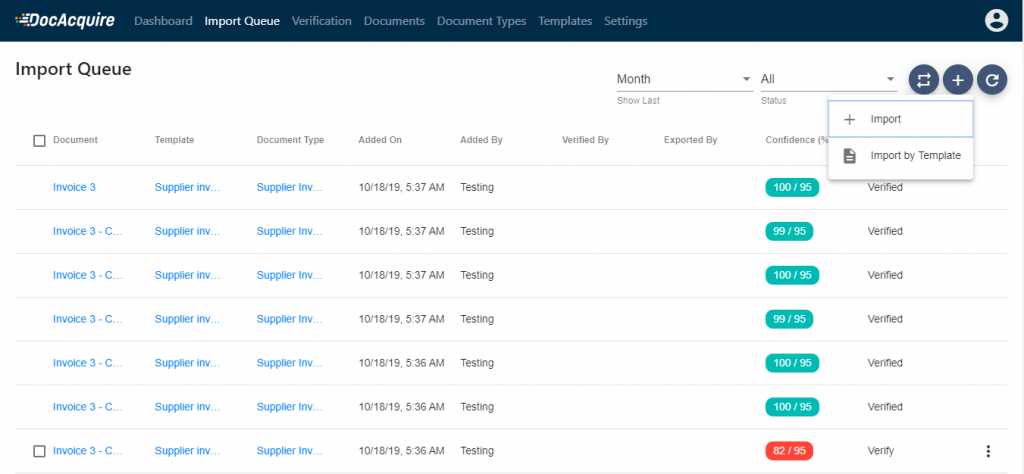 2. Go to Import Queue and upload multiple documents in one go.

3. Once the extraction process is done, go to the Verification screen where all the documents will be visible for human verification. Click on the document name – this opens the document for verification.
4. The verifier can then verify the document and fix any exceptions. Once happy mark the document as verified.
 A batch of uploaded documents can be verified in one go by clicking on the Next/Previous buttons. This makes it easier to verify the bulk of documents.
5. Click on documents to view the list of verified documents.
6. This will download the excel sheet with all the data extracted from the pdf.
7. Open the excel sheet to view PDF to Excel data extraction.
Who uses DocAcquire for PDF to Excel conversion?
There are number of businesses of all sizes using DocAcquire today for a variety of use cases such as Invoice Processing, processes within Transport & Logistics, Finance Health Care, etc. DocAcquire can save 80% time of your employees by automating manual data entry tasks from PDF documents. The automation delivers an immediate ROI (Return on Investment)  by streaming your business, improving customer service, winning more business.
What Next?
You can give a try to DocAcquire and there is no commitment. You can also request for demo and we would be glad to demonstrate how DocAcquire can help your business.
Back to blog