If you are here, the buzz about hyperautomation has definitely reached you. One of the topmost technologies of 2020, hyperautomation has been given quite an attention by independent research analysts means it is our time to pay attention!
When automation grew as an essential part of most industries, many businesses welcomed it with wide arms. However, many companies were reluctant to implement it. Rather than focusing on the immense benefits of automation, the business leaders dreaded change alongside the process. Whereas, the employees were worried about losing their jobs. However, automation technologies like hyperautomation practices can help to make businesses smarter while implementing a people-centric approach.
Escorting the new era in business, the automation technology has helped businesses to remain ahead of the curve. More industries are adapting to the ever-evolving and improving hyperautomation technology and slipping their way into an optimized business world. But what is hyperautomation technology and why do organizations need to get on board with this technology? 
In this article, you will know everything about hyperautomation technology and how will it revolutionize the face of business.

What is Hyperautomation?
Hyperautomation technology is a blend of advanced technologies like Machine learning and artificial intelligence, and Robotic process automation. This technology aims to augment human capabilities and automate every process. It also involves process mining, analytics, and other advanced tools. Hyperautomation technology is an integration of sophisticated automation steps, discover, analyze, design, automate, measure, monitor and reassess.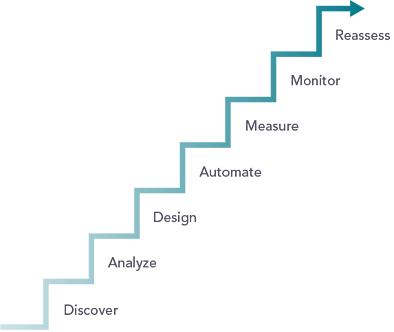 How is hyperautomation different from automation?
Automation is the optimization of a simple task. Whereas hyperautomation has an additional layer of robotic intelligence integrated into the process to result in smarter solutions. In simpler language, automation makes use of the robot's arm to make the process faster. On the other hand, hyper-automation uses its brain to perform those tasks in a much optimized and smarter manner. This intelligent layer includes different allotropes of AI (Artificial Intelligence) like NLP (natural language processing), OCR (optical character recognition), and ML (machine learning). Together, these technologies expand the automation possibilities.
Why move to hyperautomation?
Hyperautomation technology not only highlights the integration of AI and RPA to overcome the limitations of each technology. But also opens new horizons to solve complex problems. The question is who should switch to hyper-automation technology? The simple answer is everyone. Customers intending to digital optimization can benefit hugely from hyper-automation. For automation providers, it is a new source of development and investment. And for AI and tech providers, it is a new venue to deliver solutions. And for customers, it means lesser hassle and pain while dealing with enterprise processes and applications. All in all, hyper-automation technology is an open window for progress and a much-optimized business world.
Hyperautomation use cases
Now, you must be asking which sector will benefit the most from hyper-automation? Undoubtedly, all the sectors implementing technology can escalate their processes from hyper-automation Be it banking, healthcare, insurance, retail or healthcare. The combination of RPA and AI can help all the parties with NLP. This simplifies customer intentions and extracts information more efficiently. Thus making the tasks more reliable, more efficient and faster.
In healthcare sectors, hyper-automation technology can help in easy scheduling of appointments and tracking information of the patients. Manufacturing plants that deal with a humongous set of invoices can speed up their on-time payments and process invoices accurately using hyper-automation technologies like Cognitive Invoice. 
Conclusion
If you switch to hyper-automation technology, you will ace up your business operations and perform well against your competitors. It will not only help in providing better solutions but also help in making insights into the business. This means you will be able to make business-driven decisions and improve the quality of business.
Looking for automated invoice processing solutions to optimize your business process? Unlike bygone data extraction software, Cognitive Invoice does not require a specific template or tool setup. The deep learning technology comprehends the general structure of the invoices. So, you can extract data from a pile of invoices right away! 
How about trying out Cognitive Invoice as a part of your Hyperautomation initiative which requires processing invoices at a higher scale and intelligently?